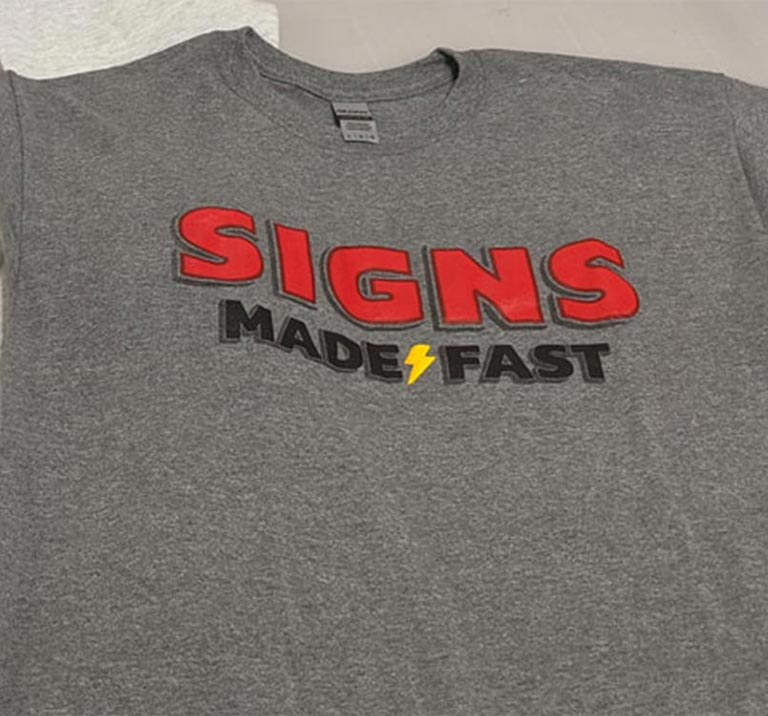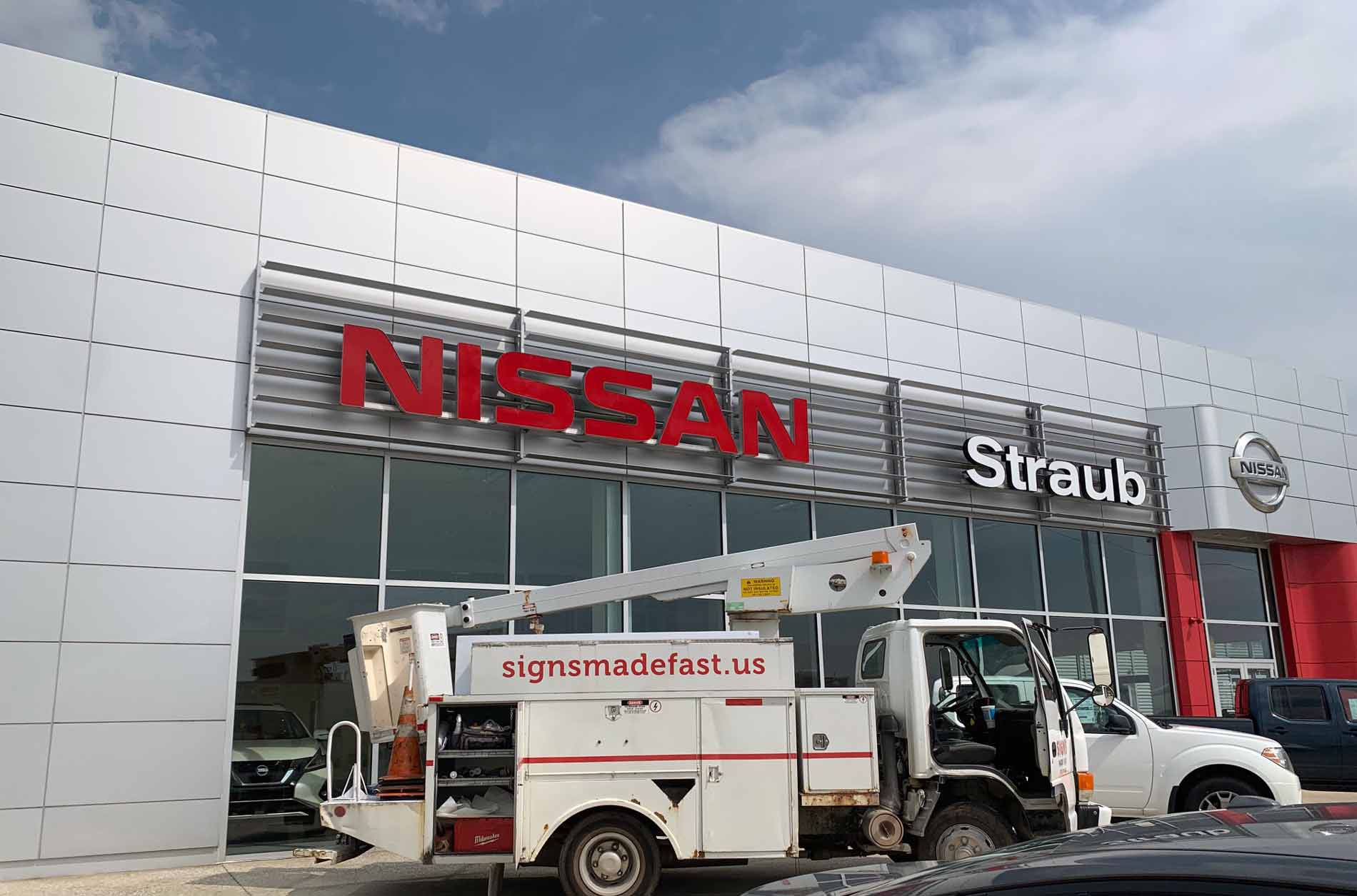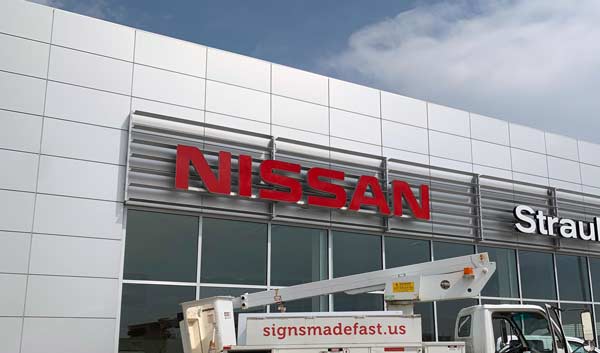 Custom signs, apparel, and more
Sign Company in Freedom, PA
At Signs Made Fast, we focus on the design and production of high-quality exterior and interior custom signs—both commercial and residential—as well as custom t-shirts, vehicle wraps, and lettering. Whether you have a rough idea, a doodle on a napkin or a fully designed sign project, we'll design, print, build and install the finished product—on time and under budget. We're the top provider of custom signage in Freedom, Economy, Rochester, and Baden, PA, serving the greater Pittsburgh area.
Almost 7 in 10 respondents (68%) say they have bought a product or enlisted a service because a sign caught their attention.
Custom Signage: Designed, Created, and Installed Fast
A sign says everything about your business. Whether it's hanging above your entrance, defining your storefront or serving as mobile branding on the side of your vehicle, you need custom signage that stands out. That means working with a sign company known for producing superior-caliber products. At Signs Made Fast, we're proud of our reputation for signage excellence, and we can't want to create a sign for your business.
From small, startup businesses in Freedom, PA to large corporate franchises in nearby Pittsburgh, PA, our mission is to exceed our clients' expectations by delivering custom signs that embody creativity, quality and affordability. We have a highly qualified team of professional sign designers and builders with more than 25 years of experience behind them. We stay up to date on the latest in high-tech production, lighting, materials and designing capabilities, to ensure our signs are current, modern and built to last.
Signs that make your business unforgettable
Whether you've got the perfect sign in mind, need a piece of corporate signage or need help putting your ideas on paper, we'll make sure you get the very best sign imaginable. More than that, as a full-service sign company, you can expect superior service every step of the way: from consultation to sign installation. Let us introduce you to a sign you'll fall in love with—one that looks great, provides brand awareness, generates buzz and makes your business an unforgettable addition to the local community.
As your full-service signage partner, we oversee projects from design to sign installation.
Bring us your ideas or designs and our team of talented designers will bring it to life.
We operate with fast turnaround, quality materials and high-tech production techniques.
Our business is a proud member of the National Federation of Independent Business.
Contact us today to chat about your needs and we'll get you a free quote on signage.
Diversity
From pylon signs to wayfinding systems, lighting bollards to wall coverings, our portfolio is unified by a specific theme: visually enhancing life in public—indoors, outdoors and everywhere in between. You'll find our products in spaces such as state parks, airports, restaurants, hotels, universities, healthcare facilities, shopping malls and on the façades of thousands of small businesses throughout the tristate area.
Solutions
Whether addressing building code requirements, ADA guidelines or environmental issues, we view design as problem solving. Our systems and products can be tailored to suit the aesthetic and performance needs of any setting. Interrelated product lines make it easy to carry design lines and material themes across our sign installations.
Collaboration
For over two decades, Signs Made Fast has embraced opportunities to work with designers, our clients and suppliers to develop real-world solutions. These collaborations have formed our product lines, yielded expertise and equipped us with a sophisticated understanding of the challenges our customers face.
Development
Multifaceted projects require an array of talents and capabilities. Our steady associations with high-end manufacturing facilities, state-of-the-art equipment and technologies, leading-edge materials and the skilled professionals that make up our team yields expertise at all levels of our organization and enables us to respond to new opportunities without compromise. Just as importantly, this allows us to maintain an awareness of our clients' budgets.
Experience Signs of Excellence
From huge channel letters, to interior signage, to custom-printed apparel and more, Signs Made Fast offers customers unparalleled signage of the highest caliber. Look around Freedom, PA and see our sign company's work for yourself!
Providing custom signs, apparel, labels, and much more to Freedom, PA and the surrounding areas:
ALLEGHENY COUNTY, PA
ARMSTRONG COUNTY, PA
BEAVER COUNTY, PA
BUTLER COUNTY, PA
GREENE COUNTY, PA
WASHINGTON COUNTY, PA